LS C&S Way
Vision
LS Cable & System has penetrated deeply into our everyday lives through power and communications technology, to connect people all over the globe. We contribute to making the world closer, more convenient and more affluent.
LS Cable & System aims at creating a world where everybody has unlimited access to energy and information. We believe nobody should be deprived of energy and information, and aim at enhancing the quality of life and creating a brighter future for all people.
To enable the Cabled world, we aim at being a leader of total cable solutions, based on having the best capabilities and expertise.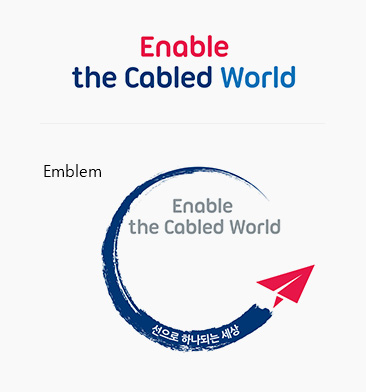 Core Value
C.O.R.E., the core values of LS C&S, represents the core importance of electric cables to modern civilization, LS C&S as a core company of the global cable industry, and a belief that people in the cable industry must always keep the core values in mind

Customer First

[Understanding changes in customers' needs]

We pay keen attention to changes in the market and customers' needs. We aim at providing new products and services through seeking customers' potential needs.

[Provide the highest value]

We keep the promises we make with our customers, and aim at perfection in our work to provide the highest value.

[Differentiation]

LS Cable & System provides values in their products and services that are differentiated from competitors.
One LS Cable & System

[Respect diversity, and listen actively]

We acknowledge that other people may have different values so we listen attentively to their opinions.

[Co-operation across divisions]

We share our experience and knowledge actively with peers in need, regardless of their department.

[Greater good comes first]

As we are one community at LS Cable & System, decision-making aims for the best interests as a whole.
Rule & Responsibility

[Sense of ownership]

We complete work processes energetically with a sense of independence, ownership and responsibility.

[Faithful to the basics]

We conduct work with consistency in accordance with business processes and rules, not personal benefits or emotions.

[Share failures for improvement]

We actively share failures or mistakes among members in order to minimize future errors and enhance performance.
Expertise

[Focus on work and performance]

We set challenging goals, and focus on our tasks with a strong willpower to achieve high performance.

[Broad expertise and knowledge]

We build knowledge and insights in new business fields, and apply them to our work.

[Continuous innovation]

We promote new and positive changes to the organization through continuous improvement in our work methods.