Best Practices
Submarine Power Cable
Jindo-Jeju Island
HVDC ±250kV Interconnection Project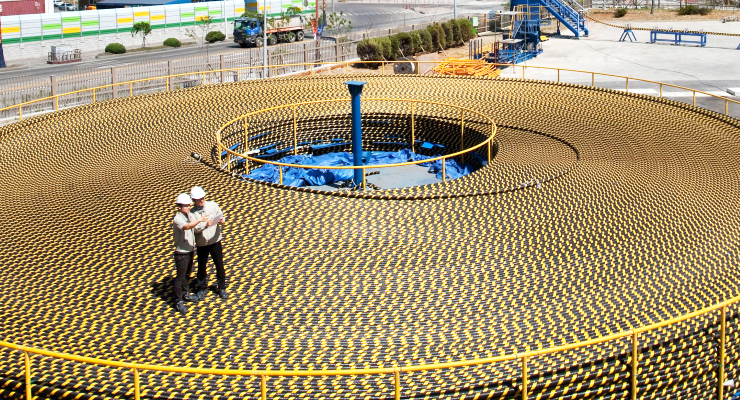 Project overview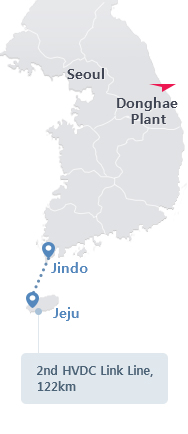 Project Owner
KEPCO (Korea Electric Power Corporation)
Project Title
Jindo-Jeju Island
HVDC ±250kV Interconnection Project
· Route Length: 122km (Water Depth Max 160m)
· Tra nsmission Capacity: 400MW
Purpose of the Project
1. To provide a stable supply of energy to Jeju Island, the most populous island in Korea. (Overcome capacity limitation of first HVDC link between the mainland and Jeju Island)
2. To set up infrastructure to transmit renewable energy, such as wind energy, from Jeju to the mainland (potential purpose)
Project Content
1. HVDC HVDC ±250kV Cable 488km (122km x 4 lines)
2. Fiber Optic Cable 2 lines
3. Power Accessories
4. Construction (Electric Works and Civil Engineering)
Project Phases
3 years from awarding of the contract
ISSUE AND CHALLENGE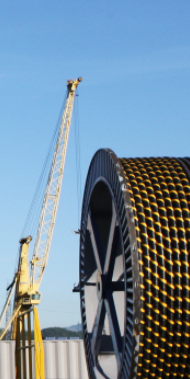 What the Project Owner is looking for
1. During last 50 years, HVDC Submarine cable technology has been the exclusive domain of a few leading global cable companies. KEPCO wanted to award this project to a technically proven cable company that had demonstrated the ability to produce Extra High Voltage DC Submarine Cable along with the project requirement of EHVAC Cable.
2. KEPCO needed an all-round cable manufacturer with diverse proven abilities including:

· Manufacture of Submarine Cable
· Manufacture of Fiber Optical Cable
· Installation of Submarine Cable
· Maintenance of Submarine Cable
Values LS Cable & System contributes to this Project
1. Key Factor ① : Development of HVDC Submarine Cable

· LS Cable & System successfully developed 250kV HVDC Submarine Cable in 2008 (4th in the World) and passed the type-test supervised by KEPCO

2. Key Factor ② : Extremely Long Cable Lengths

· LS Cable & System has developed a state-of-the-art manufacturing facility in Donghae that can produce a one-piece submarine cable 105 km long without any joints

3. Key Factor ③ : Proven Cable Maintenance Technology

· LS Cable & System has proven its submarine cable maintenance technology through its successful experience of maintaining the first HVDC link cable that links the mainland with Jeju Island.
Milestone for business expansion
Installation Cable Formation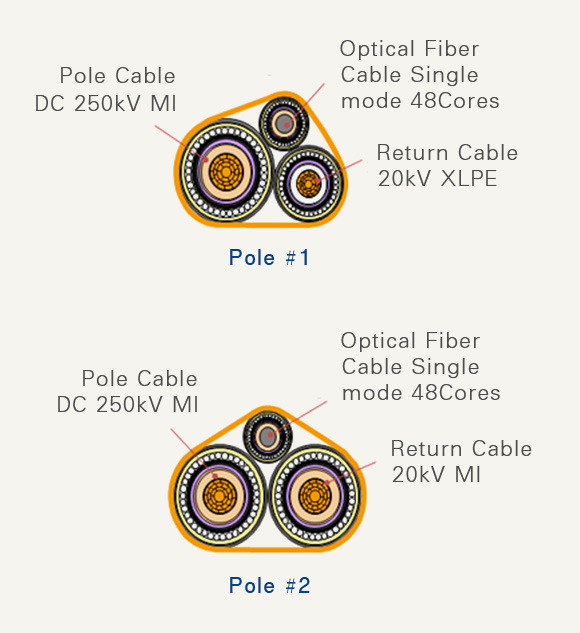 Bidding Progress
· 11/19/2008 Closing of Bidding (Three Global Bidders) Evaluation of Technology, Price, etc.
· 02/02/2009 Declaration of Prime Contractor
· 02/05/2009 Contract Signing
Implication and Multimedia
What is the importance of the project?
1. LS Cable & System was awarded one of the largest submarine cable projects in 2009 in a competition involving strong global cable manufacturers.
2. The success of this project is the global acknowledgement of the superiority of the submarine cable production and maintenance capabilities of LS Cable & System.
3. LS Cable & System has become one of only a few global players that has the ability to design, manufacture, install and maintain a complete 'Submarine Cable Solution' that also can include fiber optic cable and can cover extremely long lengths at deep depths over various floor-bed conditions with minimal power loss during transmission.
4. The Jindo-Jeju Project has opened a lot of global business opportunities for LS Cable & System.