HR Management
personnel management system
Staff position system
Staff position system
Type
Position
General management
Assistant
Assistant manager
Manager
Senior manager
Head of department
Years until promotion
4
4
5
5
-
Staff position system
Type
General management
Years until promotion
Position
Assistant
4
Assistant manager
4
Manager
5
Senior manager
5
Head of department
-
※ For university graduate applicants.
※ Fast tracking promotion system.
Evaluation/ Reward system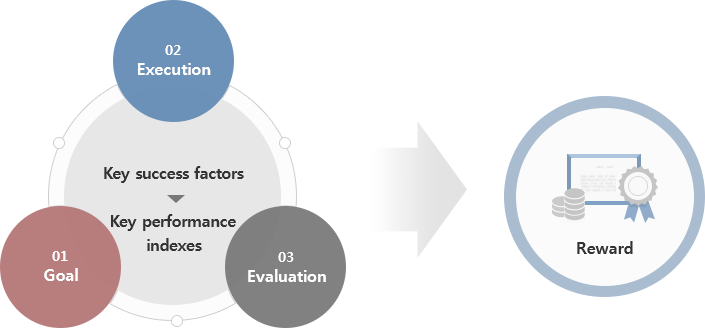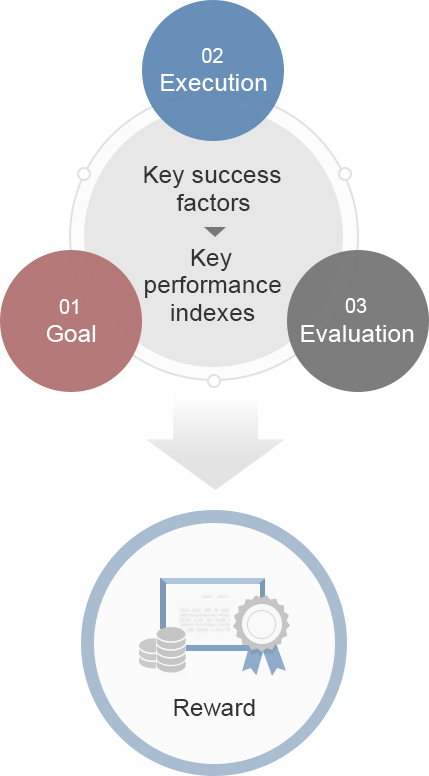 Evaluation system (MBO method)

Goals are set individually, which are consistently monitored / evaluated according to progress.
Clear evaluation standards enhance fairness, and provide rational standards for rewards.

STEP 1. Goal setting
STEP 2. Performance goal/
Capability goal
STEP 3. Interim monitoring
STEP 4. Annual evaluation
STEP 5. Performance evaluation/
Capability evaluation
STEP 6. Overall evaluation/
ranking
STEP 7. Feedback on overall results
STEP 8. Feedback
Reward system

Annual salary is fixed based on personal annual performance results. At the end of the year, performance-based incentives are rewarded according to company, organization and personal performances.
Employee Benefits
※ Employee benefits rules might be changed by the conditions.
Support of housing funds
Support of housing mortgage and loans
Dormitory available in regional business sites
Support of transportation expenses
Payment of actual expenses for travel expenses, and salesmen transportation expenses
Commuting and shuttle bus available
Student aid
Full support for the middle and high school, university educational expenses of employees' children
Cash gifts
Cash gifts and leave for condolences
Vacation and leave system
Summer vacation (5 days)
Refresh leave etc
International leave etc
Medical support
Employee's medical expenses
Comprehensive medical testing (Including biennial testing for spouse)
Company health plan benefits
(Annual check up for hepatitis and adult diseases)
Corporate welfare fund (for dependents)
Others
Support for foreign language academy expenses
Collective term insurance
Support for internal club activities
Year-round access to LG Training Center (Uljin)
Accommodation expenses for hotel or condominium 3 times a year